The lovely Marwhal once again tagged me in a fun book tag that I am very happy to participate in.
Find a book for each of your initials
I have quite a long name, so for brevity's sake I will only use my first, middle, and last name. All together, they add up to R-C-S. Here are my choices:
R is for Revolutionary Road by Richard Yates. I read this novel in August and while it is not my favorite book of the year, it is technically faultless. I still think about this novel from time to time; I especially cannot let go of Yates' masterful characterization. There is a reason why I found Revolutionary Road quite funny, despite its crushing tragedy and that reason is Frank Wheeler. Oh Frank, you silly, silly man. So unlikable! And yet, so shockingly true to flesh-and-blood people. So charming, so charismatic! Yet so false and desperate. So many found you onerous. Yet I found you a delightful scream!
C is for Cotillion by Georgette Heyer, a recent acquisition of mine. I'm very excited to read this, as it has been described as "a literary bubble bath" and "like pink champagne." Who doesn't want to read something light and frothy and romantic and uplifting? We can't all survive on literature alone. Yes, yes, I have clearly misnamed this blog.
S is for Saman by Ayu Utami. Very thought-provoking, especially for a city girl like me. I was –and still am- quite ignorant on how corrupt central government and big business can affect negligible villages. But Saman gives a piercing, distressing portrait on just one small example in novel form. It's a shame that most of the press this book gets is for its depiction of female sexuality. I would think corruption and human rights abuses should generate more uproar but hey, sex is so distracting, innit?
Count your age along your book shelf: What book is it?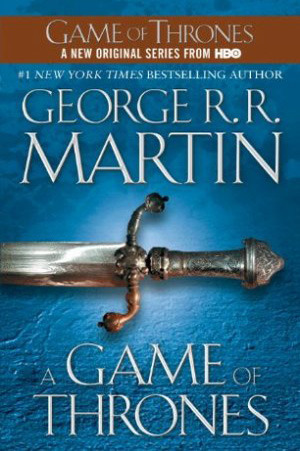 A Game of Thrones by George R. R. Martin. Gosh, I'm so ashamed to say that I've only read book 1 and 2 of this series when I love the story so much. When you can juggle multiple characters and POVs and plot points and characterizations, yet make things comprehensible to the reader, you are a talented author. GRRM is certainly a talented author. I just have too many books. Will try to dive back into the series next year. Hopefully. Fingers crossed.
Pick a book set in your city/state/country
Senja di Jakarta (Twilight in Jakarta) by Mochtar Lubis. An Indonesian classic I have yet to read. I hear Lubis is very harsh on Jakarta in this novel since this book is all about Indonesian corruption and the unsavory characters that populate the city. This novel was published in the 60s and everyone who has read it has said the corrupt practices evoked this book is still applicable fifty years later. Since I plan to write an author spotlight on Lubis, I hope to read Senja di Jakarta very soon.
Pick a book that represents a destination you would like to travel to
Out by Natsuo Kirino. This is an odd choice, since Kirino's depiction of life in Tokyo is scathing. The characters here work numbing, menial jobs. A lot of horrible things are done to people. Yet boring jobs and crime happen in every city. It's probably not healthy to build an idealized version of any place in your mind. Kirino's prose, despite her subject matter, is pristine and effortless and I look forward to reading more of her work.
Pick a book that is your favorite color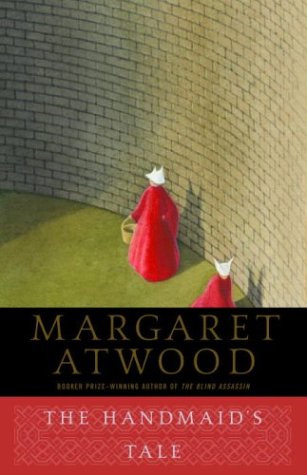 One of my favorite books has my favorite color as its cover scheme. Perfect. Reams has been written about The Handmaid's Tale but I do have an unpopular opinion about it. Beneath the din of whether this book is science fiction vs. speculative fiction, my own belief is that this is domestic fiction. This is a book about the small spaces women make for themselves, the steady ways women try to survive despite the grind and oppressions of life.
Which book do you have the fondest memory of?
The easiest question! The Adventures of Tintin. Thanks to Herge, my first big dream was to travel the world. I was sad that reviewing Tintin on this blog proved to be an unpopular endeavor, it seems that not a lot of people care for this series anymore. Yes, some sentiments are outdated. Yes, there's racism in Tintin in the Congo. But Tintin is life-affirming too. The most beautiful depiction of friendship! The lesson that changing yourself for the better is hard and will slap you with setbacks, but you can do it. And Captain Haddock! Who doesn't love Captain Haddock?
My favorite of the series (and this was excruciatingly hard to decide) is probably Explorers on the Moon. An engaging plot, the funniest slapstick and dialogue, and a darkness I did not expect to see at something aimed for children are the ingredients for something truly sublime.
Which book did you have the most difficulty reading?
The Turn of the Screw by Henry James. So many sleepless nights were spent during high school trying to figure out whether the nanny was insane or if there really were supernatural forces at work. I still have nothing. I still don't know anything! Not to mention, James had a lifelong torrid affair with commas. Gosh, he loved endless sentences. It was exhausting trying to make sense of his excessive clauses
Which book in your TBR pile will give you the biggest sense of achievement?
Dr. Zhivago by Boris Pasternak. Russian epic. Bigger-than-a-brick tome. Nuff said.
—
I know I'm supposed to tag others in turn but I'm not sure who would want to be tagged. I love being tagged but I don't think this sentiment applies to everyone. So anyone who wants to do this tag, please go right ahead!