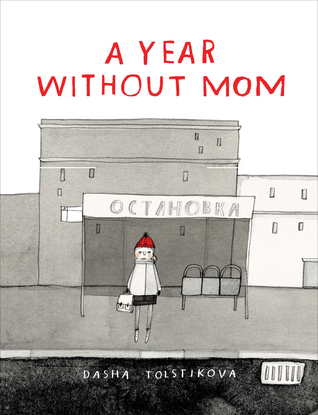 I must begin my review of A Year without Mom, a graphic memoir, with several apologies. A good graphic book review will appraise both the art and the story. Here's apology #1: my understanding of art is low. So is my knowledge of art terminology. My description of the art will therefore be layman and subjective since I don't quite know the conditions that make an illustration great.
Now, I could –and will—attach some pictures of the contents so you can visualize the art style. Well, here comes apology #2: I have no camera, only a cell phone and bad photography skills to boot. So yeah, questionable photo quality ahoy! You would be forgiven for thinking this post will be terminally useless and clicking the back button. For the rest of you intrepid ones, carry on!
The titular mother of A Year without Mom has been accepted to a graduate program in the United States, leaving her twelve-year old daughter Dasha behind in early 90s Moscow. Life goes on for Dasha as she continues school and navigates friendships and crushes.
You'd be forgiven for thinking the 90s Moscow setting would make this memoir lean slightly political. I thought the same. We were both wrong. Any political and historical context is glossed over entirely. You could tell the same story of 6th grade tribulations anywhere, be there Moscow or Addis Ababa or London.
I expected a dramatic story where mom's absence overwhelmed Dasha with the task of fending for herself while dealing with a murky political climate. What I got was an everygirl story. A Year without Mom is a misleading title as the mother's absence never felt strenuous. Dasha has always lived with her grandparents and mom being MIA still means two loving family figures and nice vacations during school holidays. A more appropriate title would be Grade School Drama as this memoir is all about Dasha's nascent puberty. Dasha goes to school. Dasha worries about the "coolness" of good grades. Dasha has hormonal crushes. Dasha wonders if her friends are true.
I've read some goodreads reviews that describe the plot as dull/mundane/soporific/all of the above. One commenter stated that if it weren't for the Moscow setting no publisher would even try to publish this book. To some degree, I agree that the "plot" feels quite throwaway and not very memorable but after page fifty, it's crystal clear that Dasha Tolstikova wasn't trying to follow in Marjane Satrapi's footsteps with Persepolis. A Year without Mom is meant to be relatable, not informative. A Year without Mom shows no matter where you are, some feelings and experiences remain the same.
Once I realized that this was a piece of juvenile literature with no intention of making a grand statement, I enjoyed A Year without Mom more. There were moments when I chuckled and hung my head in shame at Dasha's actions –so similar to my own youth and present (cough, repetitive screams of "MY LIFE IS RUINED!" cough).
I like the art more than the story. The art is in pencil and ink wash, with limited, muted colors. The color scheme (or lack thereof) is the first thing that struck out at me. Nearly everything is paper white and ink gradations, making the pages a succession of white, grey, and near-black tones. Rarely, there's red to liven up Dasha's cap, a character's clothing, or the blush of one's cheek. Rarer still are splotches of navy blue.
The art style itself is lovely, whimsical, and childlike. It looks like something a child would draw, which adds to the authenticity of a young girl's voice.
A Year without Mom is part of my Frankfurt book loot. I'm happy to own it, as I like the art. But come now, how can you not be happy to own a freebie? For those of you considering a purchase, I'd say a youngsters and tween girls would be happy to have it. Adults should tread with more caution.
Some pictures below to give you folks a peek at the illustration style:
Dasha's apartment and front door
Dasha and her friends
Interior of a school