Forgive the month-long blog silence. Life happened in the form of work, illness, work, illness, flying to Germany and working at the 2015 Frankfurt Book Fair, and jet lag. All in that order, in fact.
There are posts that have to be postponed for now. In particular, the author spotlight on Leila S. Chudori needs more time. As an apology and a way for me to get back in the swing of things, here's a post on the freebies I snagged from the 2015 Frankfurt Book Fair.
The Frankfurt Book Fair happens during the course of five days; the first three of which is open exclusively to trade visitors and exhibitors for business deals and rights negotiation. The general public is then allowed to attend during the weekend or the last two days.
Each publisher or exhibitor would bring many of their key titles for display. Ultimately, however, carrying the books home is a cumbersome and expensive affair so most publishers and exhibitors will either sell these books or give them away during the weekend.
Unfortunately for me, I was on full work mode on the final day, the day most physical books at the fair gets sold or given away. Penguin Random House, for example, would only put their books on sale starting 11am on the last day. I looked on in envy as I watched the Sunday crowds cradle their considerable hauls. But it was probably for the best that I couldn't buy more books during the final day. Even without the Sunday scramble I had already found myself with nine books.
I'll talk about the books I got from top to bottom.
The first book I got was directly from the author herself: an Indonesian named Lily Yulianti Farid. As I have mentioned constantly on this blog, Indonesia is the Guest of Honor at the 2015 Frankfurt Book Fair so plenty of Indonesian authors were invited to the fair for many speaking events. I met Lily and I complained about wanting to read her books but finding them difficult to find. Without a word, she held out her bag and took out Maiasaura out of it. "Here you go. This is yours," she said. After a brief skip of speechlessness, I said, "Well, now you have to sign it for me." And she did, which was very lovely of her.
—
I did most of my exploring on the Thursday. Two wonderful small presses deserve a lot of love on this blog post. Mainly because I ransacked their booths. The first publisher is Graywolf Press. This Minnesota-based small press literally arrested me on my tracks, so well-made and well-designed were their books. I just had to tell the lady managing the stand how lovely I found her products and ask if the books would be available for sale later during the fair. She very kindly told me that she would be leaving Friday night so I would be free to take Graywolf books from then on. Ah, how fortunate am I!
I took two books from the Graywolf stand, both of them short story collections. Not only did the lady very kindly let me have her books, she also gave me recommendations. When I told her that I am a short story devotee, she pointed me to this book: Per Petterson's debut. I have never read any Norwegian literature and I have never read Out Stealing Horses, Petterson's most famous work but I am willing to give it a shot. I was told that this is a series of vignettes gently illustrating a boy's coming-of-age. And this is a very small book, so if anything else, I'll wolf through it.
The other book I took from Graywolf was Half an Inch of Water by Percival Everett. This was the book that stopped me dead on my tracks when I walked by the Graywolf Press stand. I'm not usually fond of loud color schemes like this, but it does attract attention, and I was immediately intrigued. This is a book that I would normally have misgivings for, as the short stories within are about the American West. I have little to no knowledge of the American West and I am usually not partial to the pastoral imagery (city girl here!) but it was the first book recommended to me and a little risk once in a while is good, right? I might end up loving this book.
—
Lather, rinse, and repeat with House of Anansi Press of Canada. I had to do a double take when I passed by their booth. Was compelled to compliment their books and ask if they would be for sale. Was incredibly lucky to be told that everyone's leaving Friday night and I was welcome to help myself to their books Saturday morning. Took what I liked first thing Saturday morning and was shameless, since I took six.
House of Anansi has an imprint for children's books called Groundwood Books and I was surprised to find that I took five Groundwood Books. It has been a while since I indulged in anything middle-grade or young adult.
If you have been following this blog for a while, you'd know that I do love my Japanese-themed books so of course, I had to have this. I'm currently reading this so expect a review soon. The way the book is packaged, it is probably aimed for middle grade or younger YA, but there are some darker themes in these tales. There's murder, envy, betrayal, horror, and sexuality. But considering that original fairy tales and folktales are usually dark, I would attribute the lurid themes to the source of these stories rather than authorial intent.
Wanted this book because a) short stories and b) the arresting cover. But I was told by the lady handling House of Anansi and Groundwood's booth that Lisa Moore is a very famous Canadian author in her own right. Well, since the only Canadian authors I know are Margaret Atwood and Alice Munro, I am very much open to expanding my horizons. By the way, why are all the famous Canadian writers ladies? Not that I'm complaining, of course.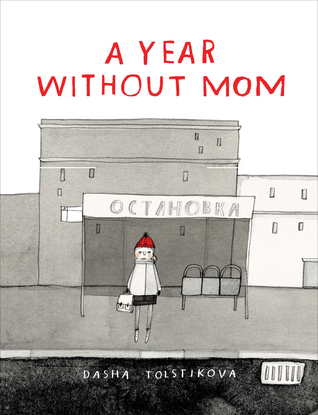 This is a super new release. Goodreads marked its release date as October 6th 2015 and Groundwood is apparently trying to hype it as their next big thing. It is also a graphic novel. You're going to notice a trend now, as the rest of these books are graphic novels. It has been a long, long while since I collected graphic novels. I loved Persepolis by Marjane Satrapi in high school and was a big reader of Japanese manga during junior and high school but my enthusiasm for the genre petered out.
Groundwood produces amazing graphic novels. I picked up four. I haven't read the text but the illustrations are divine. A Year Without Mom is set in early 1990s Moscow. Our young protagonist is navigating life without her mother, who has taken off to America. It'll probably the first one I read, as something about its vibe echoes Persepolis.
Harvey follows a little boy's life following his father's death from a heart attack. Beyond that I don't know much about this graphic novel. I do love the artwork though and within the book, there was a beautiful three-page spread that convinced me that I had to bring this one home as well.
The final two graphic novels are probably the best-known books I have on my set. These would be Skim by Mariko Tamaki and Jillian Tamaki and Jane, the Fox, and Me by Fanny Britt and Isabelle Arsenault. I have seen reviews for both books floating on booktube and they have gotten good reviews from what I can gather. Is it bad that I picked these up purely because of booktube? Please don't ask me for a synopsis, I don't know. I'll tell you after I've read them and have written a review.
And that's it for this long, picture-laden post. I might write more about the Indonesian presence at the Frankfurt Book Fair but I'm sure the newspapers and other news outlets have already covered the happenings. You're perfectly welcome to ask me questions about the 2015 Frankfurt Book Fair, of course.